Yonex ArcSaber 11 Pro Badminton Racket
The Yonex Arcsaber series consists of rackets designed to increase your control of the shuttlecock. With increased stiffness and a decade of experience, Yonex Arcsaber racquets keep the shuttlecock on the court with maximum consistency. The Arcsaber series often allows Yonex to test its latest technologies for cutting-edge frames.Discover the Arcsaber 11 Pro and take possession of an improved version of one of the mythical racquets of the Japanese brand! Reactive, explosive, maneuverable, so many qualities for this neutral rigid frame in red and grey.
Almost a decade after the release of the first Arcsaber 11, this new version is equipped with the latest technological advances developed by Yonex. Starting with a frame structure called Enhanced Arcsaber Frame. Slightly hollowed out on the lower and upper part of the frame, this geometry increases the stability of the racquet head to give you total control of the shuttlecock.
In addition, the Pocketing Booster (rubber-like material) emphasises the elasticity of the frame while the Control-Assist Bumper at the top of the racquet contains T-Anchors that hold the vertical strings in place for better accuracy.
In the shaft area, the Arcsaber 11 Pro features the Super Slim Shaft and Ultra PE Fiber. This very light fibre can resist immense forces and thus guarantee optimal shock absorption, limiting potential vibrations for an ideal playing sensation. The Energy Boost Cap Plus, which connects the shaft to the shaft, increases control by limiting the torsion of the shaft.
Demanding, the Arcsaber 11 Pro will satisfy the players in search of reactivity and power!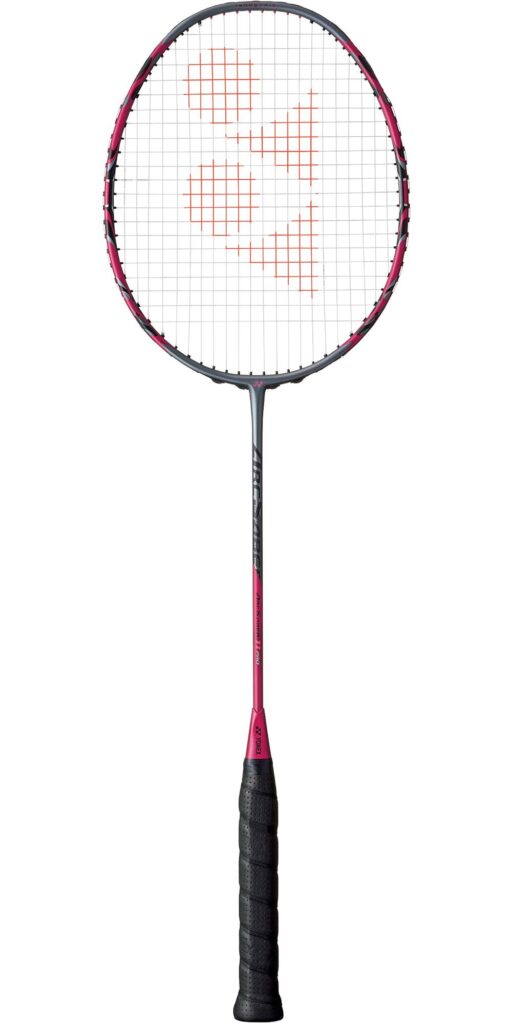 Beginner —- Advanced
0%
Light —– Head Heavy
0%
Light —- Heavy Racket
0%
FLEXIBLE —– STIFF
0%
| | |
| --- | --- |
| BRAND | YONEX |
| MODEL SERIES | ArcSaber 11 Pro |
| STRING TENSION RANGE | 20-28LBS |
| PLAYER LEVEL | High Intermediate + |
| PLAYER STYLE | SPEED |
| RACKET BALANCE | BALANCED |
| FLEX | STIFF |
| WEIGHT | 3U, 88g (± 2g) |
| COUNTRY OF ORIGIN | JAPAN |