Yonex Astrox 77 Blue Badminton Racket
The ATROX 77 comes in two flavours blue and yell. The blue is the identical of her twin yellow sister with a bit of more weight. 
More power, deadly stinging attacks, without sacrificing manoeuvrability: the blue Yonex Astrox 77 racket puts the Japanese badminton giant's all-new range of badminton rackets into orbit, initiating the all-new Astrox racket range.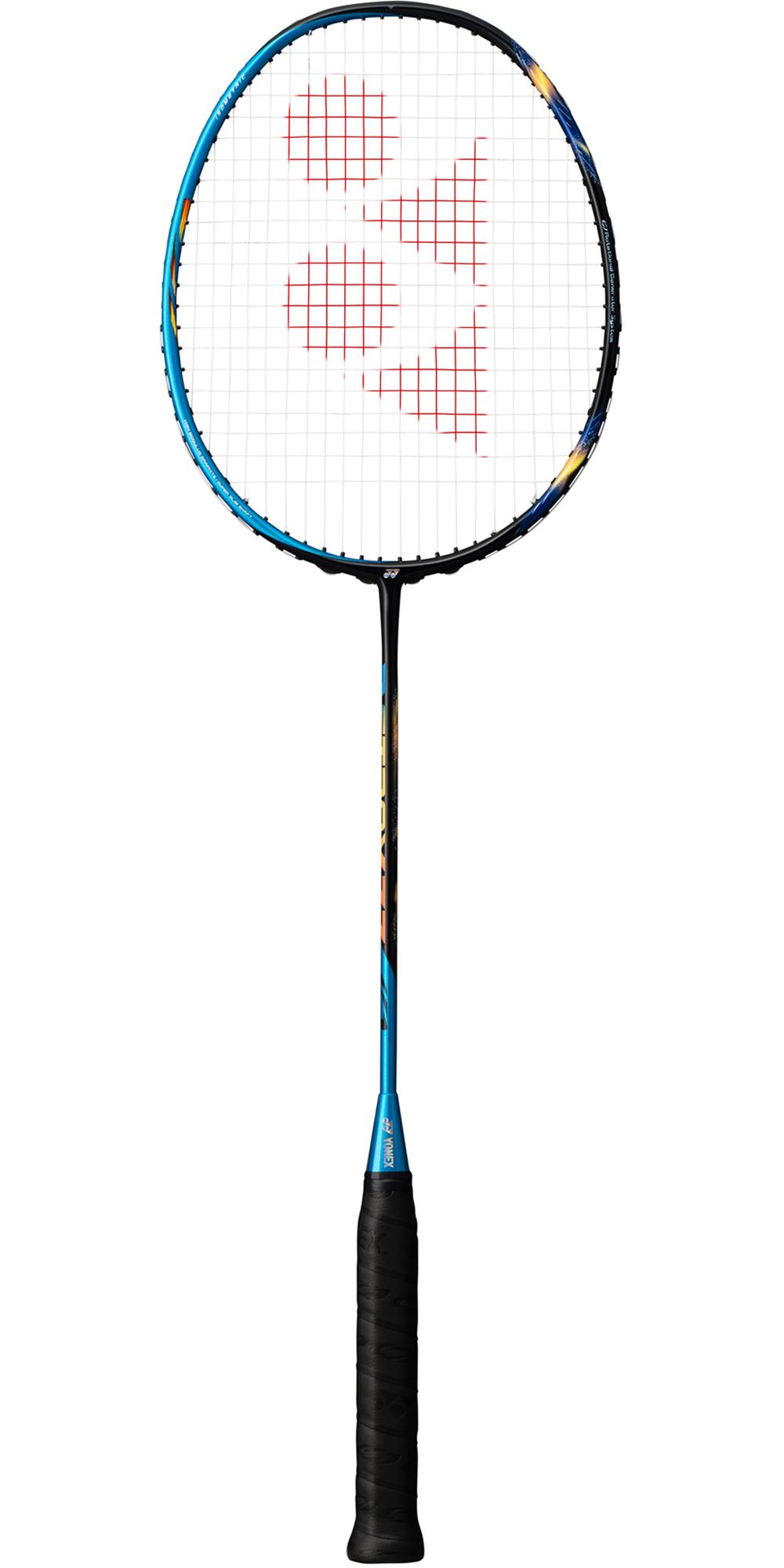 Beginner —- Advanced
0%
Light —- Heavy Head
0%
Light —- Heavy Racket
0%
FLEXIBLE —- STIFF
0%
| | |
| --- | --- |
| BRAND | YONEX |
| MODEL SERIES | ASTROX 77 Blue |
| STRING TENSION RANGE | 21-29LBS |
| PLAYER LEVEL | Intermediate+ |
| PLAYER STYLE | POWER |
| RACKET BALANCE | HEAD HEAVY |
| FLEX | MEDIUM |
| WEIGHT | Blue 3U, 86g (± 2g)  |
| COUNTRY OF ORIGIN | JAPAN |
On the side of the racket, a deep blue slice of the most beautiful effect. On the face side: original space patterns, giving a strong identity to this new range. The Astrox 77 asserts its identity by distinguishing itself from all other Yonex racquets. A foretaste of the equally original character of its technical profile, offering a new vision of the versatile frame.
To consider only the semi-rigid shaft, the assertive head weight and the 3U weight (87g average) would be a serious mistake. Because the Astrox 77's technological richness changes the game, for a totally different feeling in play.
This leap forward owes a lot to the Rotational generator system, which exploits the counterweight theory to distribute the loads harmoniously on the racket. By cleverly distributing these weights over the top of the racquet head, the T-joint+shaft, and the bottom of the shaft, the Astrox 77's high head weight is as discreet in play as it is effective in attack, for a new vision of versatility. Another benefit: an improved angle of attack of 2.3° on average, for more opportunities to take stock of the offensive phases.
In terms of power/repulsion, the Astrox 77 also benefits from all-carbon Namd, a revolutionary graphite with a composition that directly integrates nano-materials (instead of incorporating them into the frame resin). This provides a more direct and efficient link between resin and graphite, allowing the entire frame to store energy in advance during fast hits and release it back into the steering wheel.
The combination of Namd with the traditional Nanometric, a refined and highly resistant graphite design to boost swing speed and repulsion, offers a major step towards more power and explosiveness for a devastating attacking game.