Yonex Duora 10 Badminton Racket
With the Yonex Duora 10 racquet, treat yourself to a new piece of history from the legendary Japanese manufacturer. The new weapon of the Malaysian legend Lee Chong Wei creates a sensation in the Yonex racquet catalogue with a new concept: offering different playing qualities depending on the side of the racquet used for hitting.
The Duora 10 is first and foremost a superb badminton racket combining blue and orange colours with a futuristic design. The profile is geared towards the competitive player, but is still accessible to a wider audience thanks to its neutral balance and measured stiffness. With its classic weight range (3U – 85-89g), one of the new queens of the Yonex catalogue combines power, manoeuvrability and precision with a real accuracy in the choice of parameters.
Lee Chong Wei is enthusiastic about the Duora 10's playability after participating in its development: "I feel like my arm is one with the racquet on both my forehand and my backhand. This allows me to put a lot of pressure on the net. It must be said that the Japanese manufacturer has not skimped on the technological quality of its new jewel.
Yonex's tour de force is called the Dual Optimum System. The Duora 10 is the result of the fusion of two different materials on its two sides, which allow it to offer different qualities. On the orange side (dedicated to the forehand), the Duora 10 is equipped with Nanometric DR. This very thin yet incredibly durable carbon material maximises the power and control of the exchange offered by this side. The profile opts for the Box geometry for optimal precision.
On the blue side (optimised for the backhand), Yonex relies on a brand new compound: Ni-Ti, an alloy of Nickel and Titanium. This innovative choice of materials improves the rigidity and repellency of dry shots even with a short preparation, and makes it easier to get out of your bad side. To accentuate this gain, the Aero geometry offers more air penetration to the frame for maximum whip speed.
Powerful forehand, fast backhand. With the Yonex Duora 10 racquet, maintain constant pressure on your opponent to win!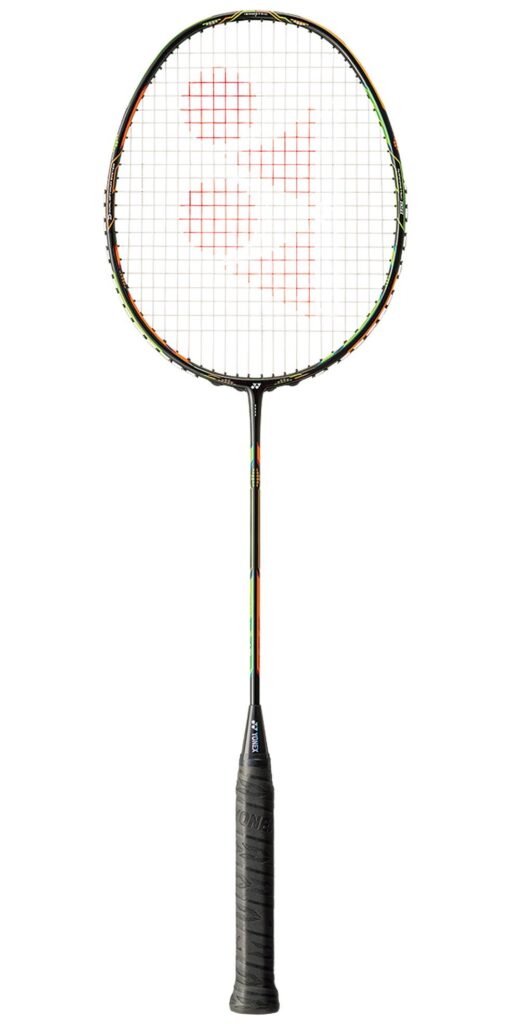 Beginner —- Advanced
0%
Light —-Head Heavy
0%
Light —- Heavy Racket
0%
FLEXIBLE —- STIFF
0%
| | |
| --- | --- |
| BRAND | YONEX |
| MODEL SERIES | DUORA 10 |
| STRING TENSION RANGE | 19-26 lbs |
| PLAYER LEVEL | Intermediate + |
| PLAYER STYLE | POWER/SPEED |
| RACKET BALANCE | BALANCED |
| FLEX | STIFF |
| WEIGHT | 3U-G4 88g (± 2g) |
| COUNTRY OF ORIGIN | JAPAN |