Yonex Duora 8xp Badminton Racket
Marketed since September 2015, the Yonex Duora range is characterised by an original concept of a racket with a variable action depending on the face used. Thanks to a system of fusion of different materials in a single frame, and a work of aerodynamics different from one side to the other, the Duora has a sense of use promoting for example power or maneuverability.

Yonex badminton continues to expand its range of high-end rackets. This is the case with the Duora 8 XP, which has already seduced the darling of the French Badminton Internationals (and former winner in 2015), Chou Tien-Chen from Hawaii.
Slightly stiffer than its big sister the Duora 10, with a perfectly neutral balance this time, the Yonex Duora 8XP will delight aggressive players who push forward for even more powerful smashes and drives.
The Dual Optimum System concept is still present. The principle: on the forehand side, equipped with Nanometric DR technology for maximum power and a Box geometry for increased comfort and precision; on the backhand side, a Ni-Ti compound (an alloy of Nickel and Titanium) that increases rigidity and repulsion of dry shots, even with a short preparation. The Aero geometry gives this racquet maximum whip speed thanks to its high air penetration.
The new technology, called Vibslayer Carbon, is a new frame and head construction that disperses tension throughout the frame to absorb vibrations. Thicker, and therefore stronger, the Duora 8 XP will be able to withstand string tensions of up to 16 kg!
The result: improved smashes and drives from the middle of the court, for even more aggressiveness, thanks to this little jewel from the legendary Japanese manufacturer.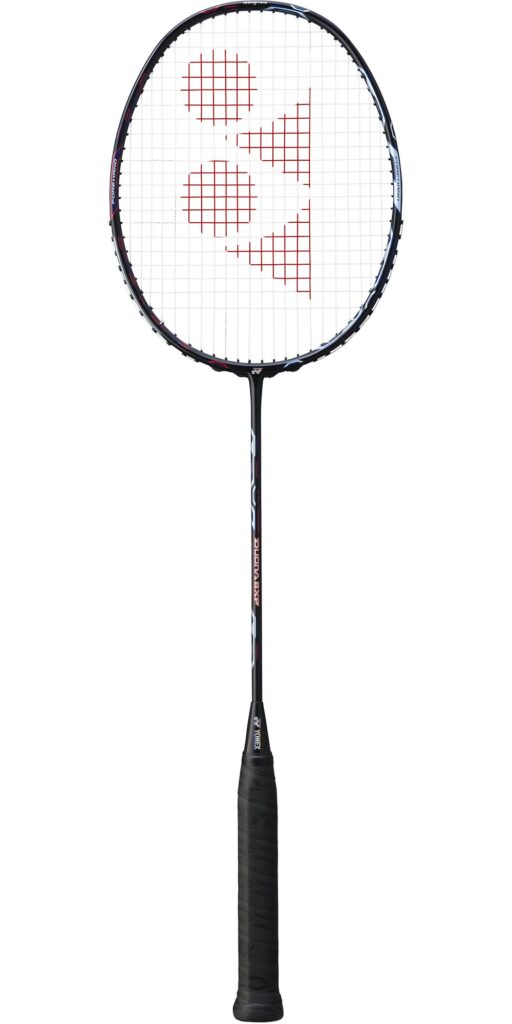 | | |
| --- | --- |
| BRAND | YONEX |
| MODEL SERIES | DUORA 8XP |
| STRING TENSION RANGE | 20-35 lbs |
| PLAYER LEVEL | ADVANCED |
| PLAYER STYLE | POWER/SPEED |
| RACKET BALANCE | BALANCED |
| FLEX | STIFF |
| WEIGHT | 3U-G4 86g (± 2g)  |
| COUNTRY OF ORIGIN | JAPAN |