Yonex NANOFLARE 800 Badminton Racket
Replacing the Nanoray, the Yonex Nanoflare range brings together ultra-fast speed and exceptional repulsion. Thanks to all new technologies (the Sonic Flare System as well as the Torayaca M40X – new carbon fiber), these racquets are intended for players looking for precision and manoeuvrability.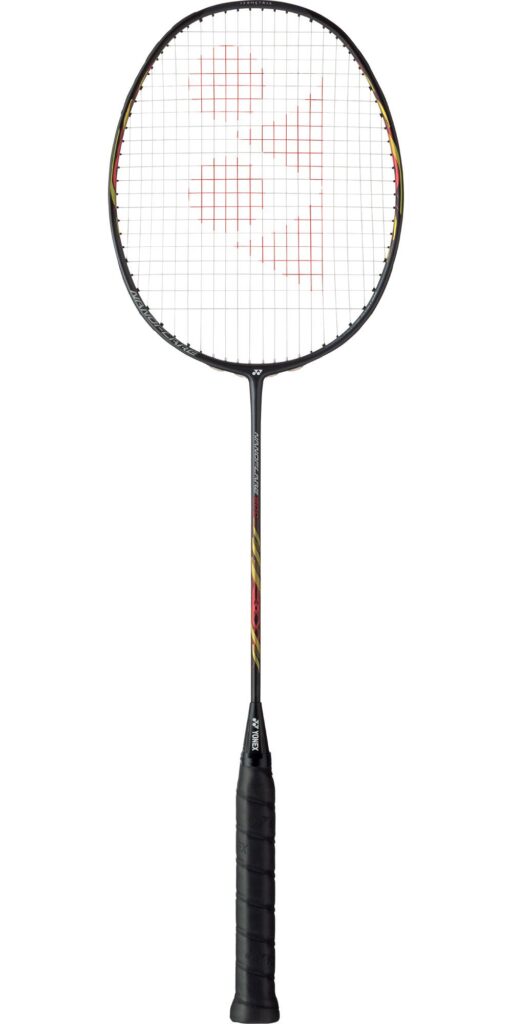 | | |
| --- | --- |
| BRAND | YONEX |
| MODEL SERIES | NANOFLARE 800 |
| STRING TENSION RANGE | 21-29LBS |
| PLAYER LEVEL | High Intermediate + |
| PLAYER STYLE | SPEED |
| RACKET BALANCE | HEAD LIGHT |
| FLEX | STIFF |
| WEIGHT | 3U, 88g (± 2g)  |
| COUNTRY OF ORIGIN | JAPAN |
Become the master of the court and always stay one step ahead with the Nanoflare 800! Intended to replace the Nanoray 800, this new Yonex racket with a rigid shaft and neutral balance will convince you with its speed of execution and its ability to control the shuttle as you see fit. The 88 grams of this frame will bring more impact to your shots to be efficient both from the baseline and in the front zone.
Mainly matte black, the paintjob of this Yonex racquet incorporates touches of yellow and red in the middle of the shaft and on the sides of the frame for a sublime final rendering, worthy of Yonex know-how. To offer a product of remarkable quality, the Japanese firm spares no expense and equips the Nanoflare 800 with the best possible graphite and a new generation of carbon fibers: the Torayca M40X. More robust and more resistant to torsion, this new material guarantees maximum lifespan but above all astonishing playing sensations.
The appearance of the Nanoflare 800 in the Yonex catalog also makes it possible to present a new frame geometry: the Razor Frame. By offering an incredibly thin frame, the Nanoflare 800 ensures minimal air resistance and redesigned aerodynamics allowing you to get behind the wheel earlier and still have control of the exchange. The Solid Feel Core reduces the vibrations caused by the racket / shuttlecock impact for optimal playing sensations. Now famous, the New Grommet Pattern is also in the game and allows this Yonex frame to strive for perfection by slightly shifting the eyelets to avoid string overlaps.
Because a quality racquet must have a shaft that meets expectations, Yonex combines Nanometric Technology with its Ultra Slim Shaft. The rod of the racket is thus thinner and less heavy while maintaining its rigidity for an improved whip. The New Built-in T-Joint will offer more stability to your strikes while the Control Support Cap guarantees quick changes of grip for a maneuverability at all times.